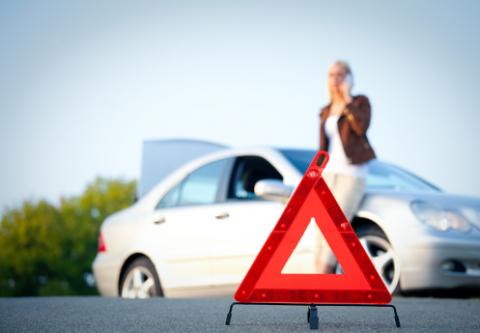 First Aid Kit
If you put your own emergency car kit together, make sure none of the items are in glass bottles or vials—put them in plastic containers with tight lids instead.
Use the suggested items below to build your own first-aid kit:
Absorbent compress dressings
Adhesive bandages (assorted sizes)
Adhesive cloth tape
Antibiotic ointment packets
Antiseptic wipe packets
Packets of aspirin
Blanket (space blanket)
Breathing barrier (with one-way valve)
Instant cold compress
Pair of non-latex gloves
Hydrocortisone ointment packets
Scissors
Roller bandage
Sterile gauze pads
Oral thermometer (non-mercury/non-glass)
Triangular bandages
Tweezers
First-aid instruction booklet
Vehicle Tool Kit
A good vehicle tool kit includes:
Screwdrivers—Phillips and flat head
Pliers
Set of good socket wrenches
Duct tape
Electrical wire tape
Electrical wire spray
Flashlight with extra batteries
Small fire extinguisher
Jumper cables
Make sure there's a jack and a lug wrench in the vehicle and that the spare tire (if equipped with spare) is inflated to its proper pressure. See owner's manual for recommended tire pressure numbers.
Additional Items
Flares or reflective devices
Tire pressure gauge
Bottled drinking water
Change of clothes
Automobile registration
Proof of insurance
Cell phone
Copy of your health insurance card
Marker and message pad
Emergency contacts
Flashlight with extra batteries
Copy of your motor club membership card
Shovel
Window scraper/brush
Window washer fluid
Sand or rock salt
Thermal packs
Energy bars
Hat and gloves
Paper towels
Disposable camera
Road maps
Please be safe out there!